---
The BEST OF WOMEN Art Exhibition
Thursday, February 17, 6:00-9:00pm: Opening Reception
VIEW IMAGES & VIDEO & more of the exhibition (click here)
PURCHASE YOUR CATALOG (click here)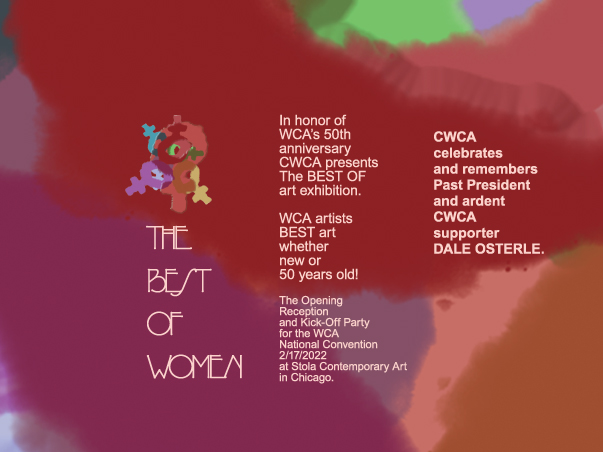 In celebration of the Women's Caucus for Art's 50th anniversary, the WCA Chicago Chapter (CWCA) is exhibiting art created by members of The National Women's Caucus for Art.

This is a BEST OF exhibition which means there is no age limitation of the artwork submitted. In honor of the National WCA 50th Anniversary the piece could be a new work, or one that is 50 years old.
Thursday, February 17, 6:00-9:00pm: Opening Reception/ Kick off Party for the WCA National Convention
CONGRATULATIONS to our CWCA members!
Beate Minkovski for the 2021 WCA Lifetime Achievement Award &
Ashley January for the 2021 WCA Emerging Artist Award
MISSION: expand opportunities and recognition for women in the arts

Please join our facebook page to get up to the minute news and meeting info.
It is a closed member group, so just ask for permission to join. We would love to add you.

Get your images on WCA_Chicago Instagram and
Committees are meeting ongoing. If you want to participate on one of the committees, or for more info
about the meeting please email chicagowca@gmail.com.