CWCA Programs/Events
If you are interested in volunteering contact Arlene at 847.674.0321 or e-mail arlenerakoncay@aol.com.
Ideas and suggestions for programs are also welcome
CWCA now has a video vimeo web site.
https://vimeo.com/chicagowca
There will be a section on programs soon.
Our first program will be about getting your art ready for submitting to exhibitions.
CWCA stellar presentations
https://vimeo.com/showcase/8498052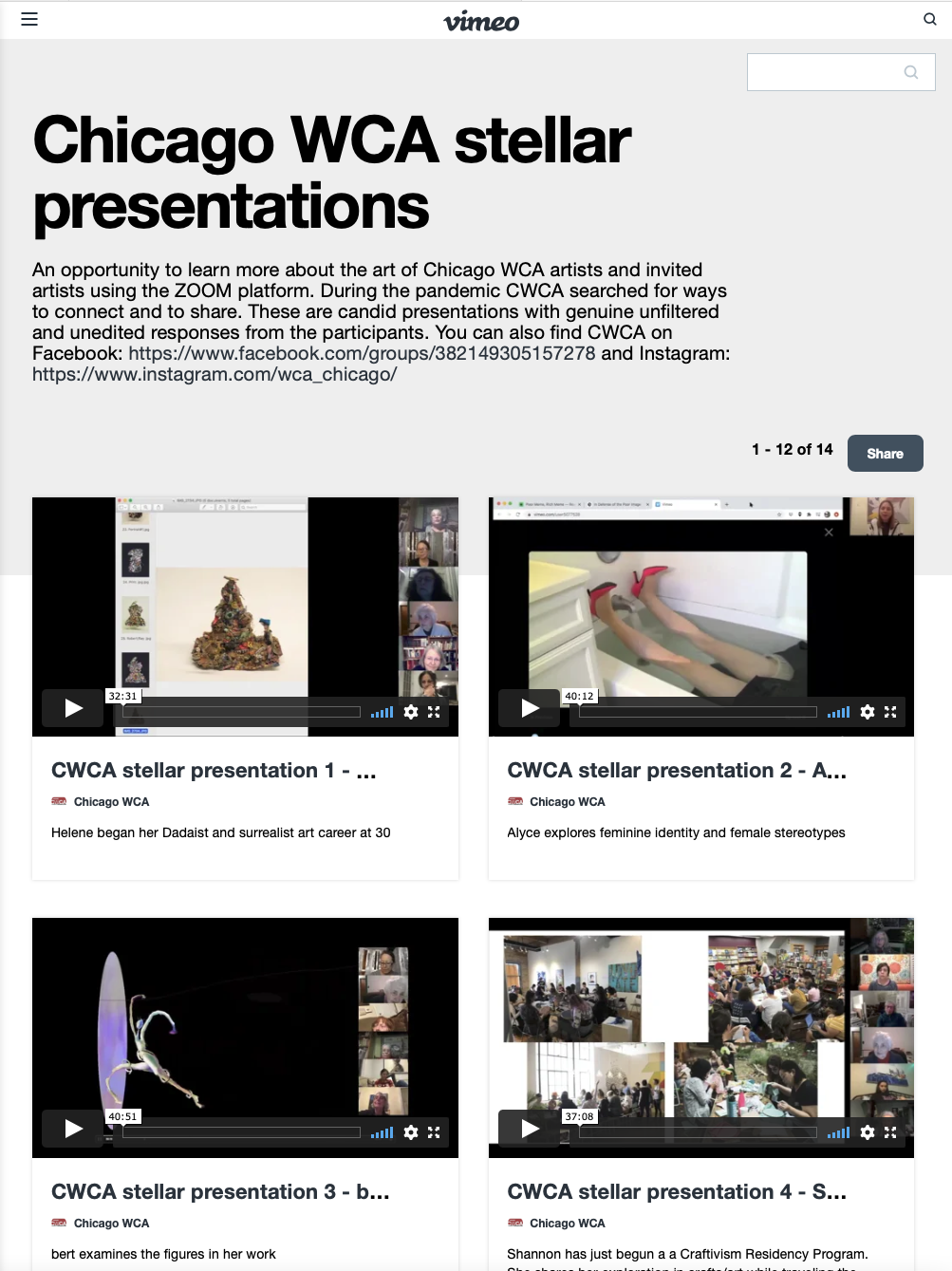 Helene Smith Romer initiated, organized and brought to fruition the CWCA Stellar Presentations program.
It is an opportunity to learn more about the art of Chicago WCA artists and invited artists using the ZOOM platform.
During the pandemic CWCA searched for ways to connect and to share.
These are candid presentations with genuine unfiltered and unedited responses from the participants.
We look forward to future presentations.

New invited artists:
June 8, 2021 - Katherine Rosing" Leave No Traces" (available for viewing now)
September 14, 2021 - Louise Le  Bourgeois
October 12, 2021 - Ginny Sykes
November 9, 2021 - Brenda Oelbaum
2022 - Jennifer Weigel, Lois Keller and Judy Prisoc
View these Stellar Artists Presentations:
Jeanine Hill-Soldner (Stellar Presentation 14)
Alice Revelski (Stellar Presentation 13)
Anita Ivy Miller (Stellar Presentation 12)
Sandra Bacon (Stellar Presentation 11)
Lourdes S. Guerrero (Stellar Presentation 10)
Anne Farley Gaines (Stellar Presentation 9)
Kelly Mathews (Stellar Presentation 8)
Laura Cerf-Dall (Stellar Presentation 7)
Veronica Clements (Stellar Presentation 6)
Caren Helene Rudman (Stellar Presentation 5)
Shannon Downey (Stellar Presentation 4)
Bert Leveille (Stellar Presentation 3)
Alyce Haliday McQueen (Stellar Presentation 2)
Helene Smith Romer (Stellar Presentation 1)


Ongoing: Member Open Studio Visits
This is a great way to meet fellow members, share what you've been working on, explore artistic practices
or just relax and celebrate what you do. We have been getting together on-line –
Please watch our facebook page for info.
Contact bert leveille to arrange a studio visit by ZOOM
Chicago, February TBA: WCA/CAA National Conference!
Chicago will host the WCA/CAA (Women's Caucus for Art and The College Art Association) National Conference in February.
WCA Lifetime Achievement Awards to be announced