CWCA Archives
Help us improve our archive!
If you have photos or press-clippings of past events that are not listed, or, a story to tell about your visit to a WCA/CAA National Conference please write to chicagowca@gmail.com. Please put CWCA archives in your subject line.
Protecting Your Artistic LEGACY – September 2019
if you missed Protecting Your Artistic LEGACY — What happens to our work after we are gone?...
Inspiring room at the Sulzer Library; great panel!

Good info can be found at:
Lawyers for the Creative Arts
www.law-arts.org
Arts & Business Council
https://artsandbusinesscouncil.org/estate-legacy-planning/
Contact the Conservation Center for info on archival qualities of your work.
Heather Becker: heather.b@theconservationcenter.com
https://www.theconservationcenter.com
There is possibility to donate work to Institutions like Kohler., and, Purdue University - Judy Jacobi is the asst Vice-Chancellor Art Collections.
Aron Packer spoke of the importance of advocates and financial record/history.
(Take-away: artists need someone advocating for them during their art career and after they are gone. To put it in other words relationships matter. BUT - It is up to us to document, get ourselves out there, get the work out there and plan for the works future - every artist will do this/or not in their own unique way)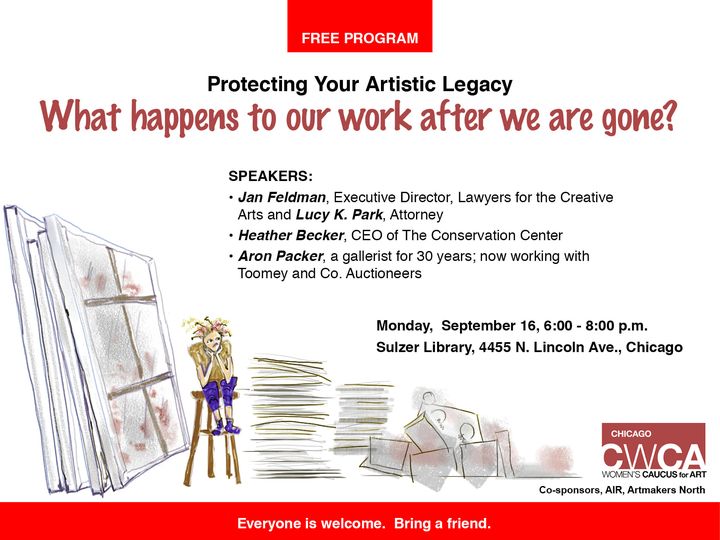 FREE PROGRAM - Protecting Your Artistic Legacy
What happens to our work after we are gone?
Next Monday, September 16, 6:00 - 8:00 p.m.
SPEAKERS:
• Jan Feldman, Executive Director, Lawyers for the Creative Arts and Lucy K. Park, Attorney
• Heather Becker, CEO of The Conservation Center
• Aron Packer, a gallerist for 30 years; now working with Toomey and Co. Auctioneers
Sulzer Library, 4455 N. Lincoln Ave., Chicago
Sponsor, Chicago Women's Caucus for Art
2010 Awards for Excellence in the Arts
CWCA Announces Recipients of 2010 Awards for Excellence in the Arts
The Chicago Women's Caucus for Art (CWCA) is pleased to announce the recipients of the 2010 CWCA Award for Excellence in the Arts. This Award recognizes women who have exemplified the CWCA mission of creating community through art, education and social activism. Nominations of outstanding artists and arts professionals living and working in the Chicago area were received from leaders in the arts community. Four recipients were selected and will be recognized at an awards ceremony and reception to be held on February 13, 2010 at the Chicago Cultural Center.
The recipients of the CWCA Award for Excellence in the Arts are:

A special recognition award will be given to June Spiezer, avid collector of Chicago art and supporter of Chicago-based artists.
To see award recipient bios click on any name or click here.
The awards ceremony and reception was held in conjunction with the national Women's Caucus for Art Lifetime Achievement Awards ceremony and dinner at the Chicago Cultural Center and the College Art Association's 2010 Annual Conference in Chicago.
Hear audio of past conferences in the CAA archive.
Achievements in the Arts Award
2008
2007
2006
Beate Minkovski
2005

Studio visit


Sunday December 12, 2010
Studio visit with artists Sharon Bladholm and Lucy Slivinski
Albany Carroll Arts Building
319 N. Albany, 2nd floor, Chicago IL 60612
Come inside one of the most exciting arts buildings in Chicago and meet two exceptional artists and extraordinary women - multi-media artist, Sharon Bladholm and installation artist Lucy Slivinski. Sharon will open her Opal Glass Studios and introduce the unique scope of her work in glass, bronze, ceramics, and printmaking - which focuses on the natural world. In an adjacent studio, Lucy Slivinski develops site-specific installations using recycled and reclaimed materials, primarily abstract work inspired by organic forms that incorporates lighting.
Biographical notes
Sharon has participated as an artist in environmental and archaeological expeditions to the Brazilian, Venezuelan and the Peruvian Amazon and is currently finishing a public art project for Openlands. Lucy also works internationally and locally, recently completing the "Silversurf Gate," a public installation commissioned by the Chicago Park District located at the Logan Square Skate Park . To find out more about these artists, visit www.sharonbladholm.com and www.lucyslivinski.com
Film May 2009
On Wednesday, May 20, 2009, CWCA is co-sponsoring the film Motherland Afghanistan with World Can't Wait, at Pick-A-Cup Coffee Cafe, 1813 W. Dempster, Evanston, 7:00 p.m. A thought- provoking documentary filmed in the wake of the U.S. invasion of the region. Filmmaker Sedika Mojadid shadows her father, a women's health specialist working to rebuild hospitals. One in seven women die during childbirth, and many women travel for days to receive adequate care from a trained professional. Free. Details, 847.674-0321.

Specks Collection May 2009
CWCA invites you to see the German Expressionist Collection of Marcia and Granvil Specks on Sunday, June 7, 2009, from 2:00 - 4:00 p.m. The Specks will serve coffee and cookies, feel free to bring white wine (only), chips, dips, crackers and cheese, grapes, or other snacks, juice or soft drinks. You must RSVP for the address and directions. Call Arlene at 847.674-0321 or e-mail arlenerakoncay@aol.com. Thank you to Jill Specks for arranging this tour.
News
Archived newsletters can be found here.
Current member communications are found on Facebook.